About us



We love the tie tradition. We love everything outside the standard. We love the classic look. We love quirky designs. We love to party. We Love Ties.
We Love Ties is a concept of Rooymans Neckwear; the neck tie specialist with more than 40 years of experience.


We have something for everyone: men, women and children

Since 2011, the We Love Ties web shop has offered a wide range of men's accessories: neckties, scarves, cufflinks, suspenders, bow ties, butterflies, lapel pins, tie pins, handkerchiefs, bracelets and cravats. For the ladies, we have a large selection of ties, pashminas and shawls.
Of course, we also cater for the little ones, with children's neck and bow ties.


The right price-quality ratio

Because we develop our articles ourselves, we can deliver high quality at a good, competitive price. When you buy at We Love Ties, you choose for high-quality accessories and fresh, modern designs, based on years of experience of people who love what they do.


Unique and with a focus on service

We Love Ties stands for a range of unique accessories with creative designs, which are not available elsewhere. For every occasion and every target audience. Because of our amazing and professional team of designers, buyers, sales staff, stylists, web designers and warehouse staff, we run a unique web shop with excellent service and a great range of products we are proud of.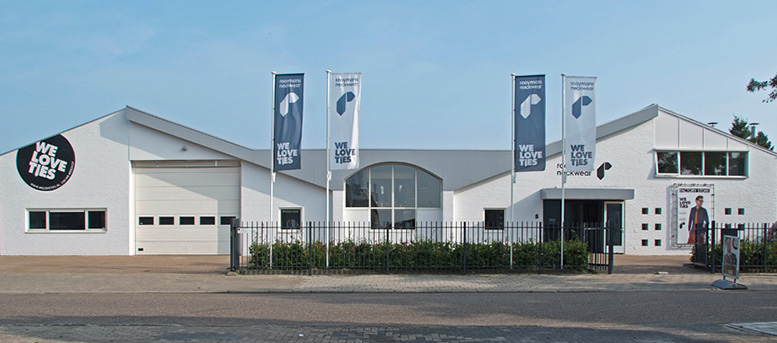 Factory store

The We Love Ties Factory Store can be found at 't Inne 5 in Budel, The Netherlands. In this shop, you will find an even greater range of products than in our web shop. You are welcome to come and visit. Our staff will gladly help you in your quest to find the perfect accessories for your perfect outfit.
Tip! Click on the photo to take a look in our factory store

Opening hours Factory store:

Monday till Friday from 10.00 am till 5.00 pm.
Closed on Saturday and sunday.