Custom Made



Are you looking for a unique necktie or scarf?
Are you looking for an original and stylish gift?
Would you like to have your company necktie with logo?

In addition to our extensive We Love Ties collection, we have our own design studio with experienced designers. They are specialised in designing neckties and ladies' scarves. On the basis of your logo or house style, they can design a unique and surprising pattern together with you.

We Love Ties is part of Rooymans Neckwear BV. With 40 years of experience and a host of famous wearers, Rooymans Neckwear has become a household name. Rooymans Neckwear is more than a reseller. In principle, Rooymans Neckwear a manufacturing company. Our designers can translate your corporate vision into a fresh, contemporary graphic design. We work with a fixed group of weavers & printers, who transform these designs into beautiful neckties and scarves.

Custom-made company ties can already be ordered from a minimum of 30 units.
A scarf with your own design is possible from 50 units.

Key facts:
- Also smaller editions: your own necktie from 30 units
- Delivery time approx. 8-9 weeks, incl. a sample tie or scarf (urgent requests in consultation)
- Design provided for free and without obligation within 1 week (if the logo is submitted as an .ai or .eps file)
- Knowledge & experience: 40 years of expertise in neckties and scarves
- Attractive portfolio


A few highlighted projects:
Noord-Brabant Provincial Government
The unique design of these 3 ties, made for the Noord-Brabant Provincial Government, was inspired by the work of the architect Hugh Maaskant. The walls of the State Room consist of various types of concrete. In the Maaskant's designs, the decorative stones all have a function. The stone pattern the design of these ties is based on, serves the acoustics of the room and can be seen as a work of art.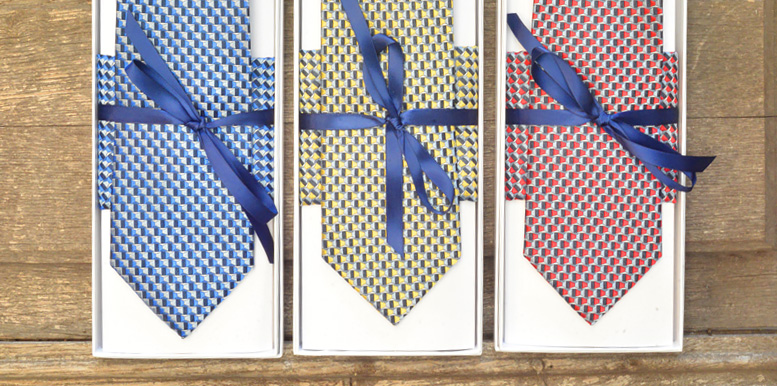 Atradius
Credit insurer Atradius wanted to give its business relations a unique Atradius tie and scarf. Because the logo was woven into the tie with a subtle ton-sur-ton method, the simple pattern makes this tie a very wearable item. For the scarf, the logo was enlarged, creating large colour blocks; a perfect design for a ladies' scarf.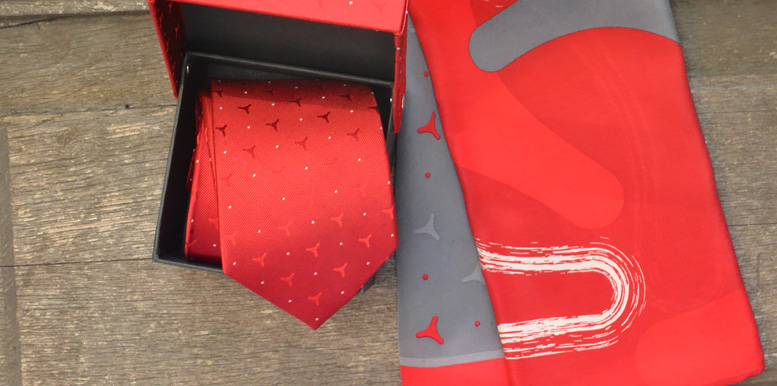 International Court of Justice
For the 70-year anniversary of the International Court of Justice in the Peace Palace, 2 unique neckties were woven. Both ties have an all-over dove design. The symbol of peace, the peace dove, has been introduced in a very subtle manner. This gives the tie for the International Court or Justice an extra message as a business gift.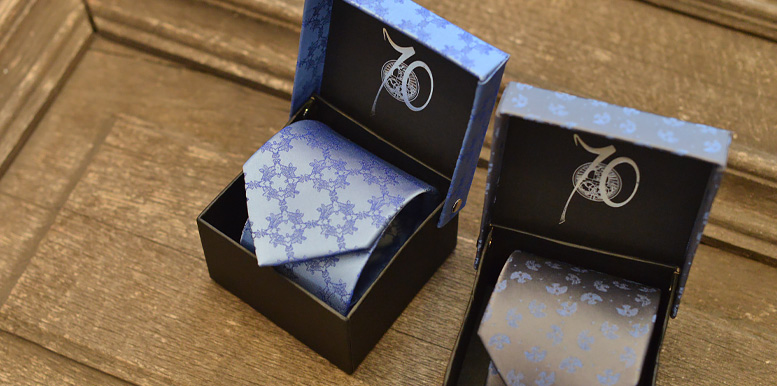 DelfSail 2016
For the opening ceremony of the sailing event in Delfzijl, we produced a beautiful set of a custom-made necktie, butterfly, cufflinks and pashmina scarf.
The unique accessories were presented as a gift to distinguished visitors, such as the mayor of the municipality of Eemsmond. The specially designed logo was woven into the necktie and butterfly, creating a beautiful, wearable tie. The logo was applied onto the pashmina with the screen-printing technique. The cufflinks were embossed.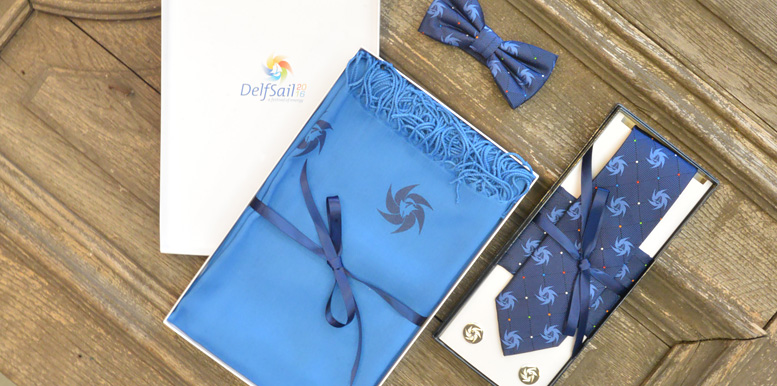 Want your own custom-made tie?